Life Through Tiki's Eyes, With Comment By Tiger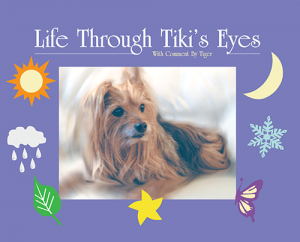 Authors: Tiki Eavy with Tiger
ISBN #1-931311-00-5
$8.99 / #121T
See the world through the eyes of Tiki, a Yorkshire Terrier affectionately known as the Grand Dame of Bennington Hollow, and her best friend Tiger, a little Maltese. Beautifully illustrated with photographs and graphics, Tiki shares her wit and wisdom about her home, the world outside, and the universe. Her longtime companion, Tiger, lovingly peppers the text with commentary.
This delightful book captures Tiki and Tiger's constant joy in life's simple pleasures. Tiki and Tiger offer their opinions on issues humans grapple with on a daily basis. Using the metaphor of a leash, a snowfall, or falling leaves, Tiki gives a positive perspective on bigger life questions such as respect, boundaries, and losing a friend. Tiger attaches his love notes, leaving readers smiling and feeling uplifted.
Read an excerpt of this publication in PDF.
Tiki and Tiger Help Children Become Authors
Special Offer: Have you talked about a good book lately? After conducting successful author workshops, Tiki and Tiger decided to share their ideas for helping teachers and parents write with children. Using Life Through Tiki's Eyes, With Comment By Tiger, Tiki and Tiger developed a series of activities that not only help children write, but also develop an understanding of different perspectives. The activities are featured here.