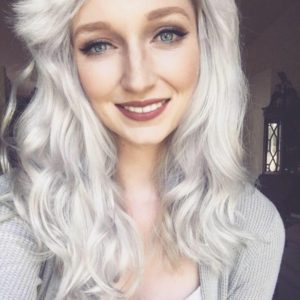 In 2016, Smiles All Around! partnered with artist, Erin Eavy, to create illustrations of Lacey and Miles. The results were amazing! Erin created the series of illustrations for Lacey's Search for the Perfect Halloween Costume, which was posted on Facebook and is being turned into a children's book to be published this summer. (Lacey posted it in part on her blog Lacey Halloween). Erin also illustrated two new Smiles holiday greeting cards—one starring Lacey (Greeting Card from Lacey) and one starring both Lacey and Miles (Greetings from Miles and Lacey). Click here to purchase holiday cards (Buy Holiday Cards).
Smiles All Around! (Smiles) caught up with Erin Eavy to ask her about her artistic style and how she finds inspiration for her illustrations.
Smiles: How did you approach illustrating around a photo?
Erin: Style matters. When working with the pups' photos, I wanted to go with a simple style to balance out the realistic dog. I did not want to crowd the photo image with super realistic drawings. I wanted to go with more simple elements. For example, in the Lacey Halloween adventure, on one illustration I added a little frog; on another I added little bats. In both cases I added quirky expressions on their faces to compliment the story.
Smiles: How did you develop the unique "feel" of the entire image?
Erin: First, I wanted to capture Lacey and Miles. Their overall feel is light hearted and fun. So, I looked to the illustrations to capture their charm and whimsical side. With characters—like the parrot—I kept it cartoony. However, it was more of a challenge illustrating their holiday card calorie-laden food spread. In that case, I decided to rely more on colors to give the overall card a playful feel.
Smiles: Lacey and Miles are the same breed, yet they have very different personalities. How did you approach that?
Erin: When combining illustrations with photos, it is important to keep the illustrations minimal so that the personality can shine through each pup. I decided to pose them in ways that showcased each pups' personality. I used their difference in size to highlight their uniqueness. I also like to use motion to offset personalities.
Smiles: Where does the inspiration for a particular illustration come from?
Erin: I picture something in my mind, then I just draw it! I like to get the image out of my brain! Sometimes, I get inspiration by searching for examples done by other artists. For example, I might like how an artist executed a particular element or style. I don't actually copy what they have done; rather, I let what they did inspire me to incorporate something similar into my own look, feel, and style.
Smiles is excited to have Erin Eavy on the Smiles team and is looking forward to unveiling Erin's new Lacey and Miles card illustrations and books. If you'd like to learn more about Erin and her art, contact the Smiles Gang at Smile@SmilesAllAround.com