Count Them – Smiles Wins Three 2017 dotCOMM Awards!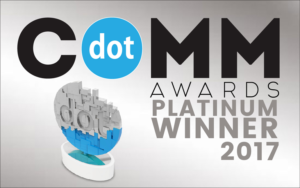 Miles is flying high! Why? Because he just received a 2017 dotCOMM Award Honorable Mention for his blog post, "Who's On Miles' Valentines List?" Read what Miles had to say about his friends, Debbie the Dalmatian, Gretchen the Goose, Earl the Squirrel, Skeet the Siamese Cat, and, of course, his sister Lacey at https://www.smilesallaround.com/2017/02/05/valentines-card/
The Smiles All Around! team also is excited to announce that it has received two other 2017 dotCOMM Awards.
dotCOMM Awards is an international competition honoring excellence in web creativity and digital communication. The competition is unique in that it reflects the role of creatives in the dynamic web that is transforming how we market and communicate products and services.
dotCOMM Awards' categories are the elements of the web's evolving tools. Interactivity, content, design, social media, video, apps, blogs and influencers are especially important components of digital public relations, marketing and advertising campaigns. Together, they generate branding, customer engagement and ultimately sales.
dotCOMM entries come from corporate communication departments, public relations firms, digital shops, advertising agencies and freelancers. Entrants include designers, developers, content producers, digital artists, video professionals, account supervisors, creative directors and corporate executives.
The Association of Marketing and Communication Professionals (www.amcpros.com) administers dotCOMM Awards. Judges are industry professionals who look for companies and individuals whose talent exceeds a high standard of excellence and whose work serves as a benchmark for the industry.
Smiles Wins 2017 APEX Award!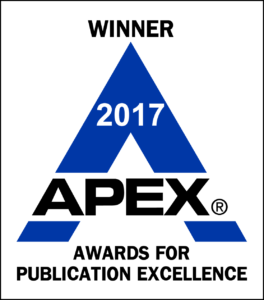 www.SmilesAllAround.com won a 2017 APEX Award for Publication Excellence. APEX Awards are based on excellence in graphic design, editorial content, and the ability to achieve overall communications excellence.
The team at Smiles All Around! is very proud to receive this honor.